Meet the Presses
Charles Palmer dedicated 30 years of his life to the collection and maintenance of presses spanning 150 years of California printing. Let's learn a little bit about them!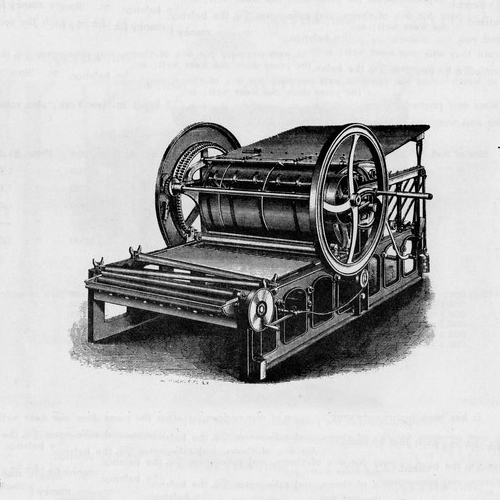 Campbell Country Cylinder Press
The crown jewel of the collection is the Campbell Country Cylinder Press. Built in 1890, the press has an interesting history. It was manufactured in New York, then shipped to San Francisco where it was used until the 1906 earthquake and fire.
"
I like printing, and believe we should preserve its tools as well as the examples of its work. When I found the material on hand was of growing historical value, I decided my hobby should become a lasting and growing exhibit, with its equipment maintained in use and not permitted to lapse into rusting idleness. I hope the collections will prove of increasing value to students of printing in the future.
"
— Charles Palmer
Sources
Bacon, Harold, et al. "A Machine for the 19th Century: The Iron Hand Press." The American Bookbinders Museum, 1998.
"Letterpress Printing." Chandler and Price Hand Platen - New Style, letterpressprinting.com.au/page31.html.
"Chandler & Price." Wikipedia, Wikimedia Foundation, 2 Aug. 2017, en.wikipedia.org/wiki/Chandler_%26_Price.
User, Super. "Campbell Press." Campbell Press, 2019, ganewsmuseum.com/equipment/campbell-press.html.
Britannica, The Editors of Encyclopaedia. "Linotype." Encyclopædia Britannica, Encyclopædia Britannica, Inc., 5 Apr. 2018.
Alhaideri , Jienne. "The Invention of the Linotype Machine (Jienne Alhaideri '13) - From Tablet to Tablet: A History of the Book." Google Sites, 2013, sites.google.com/a/umich.edu/from-tablet-to-tablet/final-projects/the-invention-of-the-linotype-machine-jienne-alhaideri-13.
Bacon, Harold, et al. "The Pearl— a Jewel of a Press." The Pearl Press, 1998, www.apa-letterpress.com/T%20&%20P%20ARTICLES/Press%20&%20Presswork/Pearl%20Press.html.